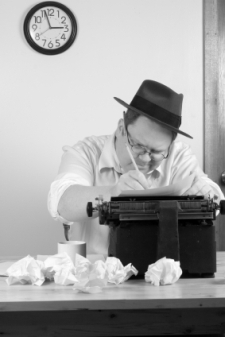 I ran the first Web Promotion SHOCK seminar yesterday and it was poorly attended.
Getting the marketing right is a process that almost always involves risk and failure. I remember a guy who got promoted at Colgate-Palmolive while I was working there. He'd launched a new product into test market. Got the formulation wrong, the packaging wrong and the advertising wrong. But the market research showed why it failed and the company then knew what to do. Risk, failure, knowledge.
In the case of my seminar, I believe I got the proposition wrong and the creative wrong, so I need to go back and do some more testing. I think I'll do this with AdWords. But where I failed spectacularly was in my attempts to get some PR; promotion that has an editorial component, is unpaid and carries the implicit endorsement of a third party.
I spoke to the Breakfast DJ of a commercial radio station who said he'd be prepared to do an interview. Right demographic and all of that. He asked for an outline, so I sent him some suggested questions and how I would respond. It was light and entertaining stuff about Google and web promotion but I proposed to mention the seminar. He emailed me back saying this: "this is an ad and I will get my ass kicked by management". He explained that because I was charging for the seminar, company policy deemed the content commercial. Obviously they don't want to encourage that, given that they're in the business of charging for advertising. So the interview did not take place.
I had a similar response from the local newspaper. This is commercial; can't do a story.
Here's what I don't understand. Every radio station does interviews with authors. Authors are blatantly promoting their books. Commercially. What is the difference between an author promoting a book and a speaker promoting a talk? The policy that is currently in place gives free publicity to large book publishers many of whom have the capacity to pay for advertising but it withholds free air time from the whole speaking industry; small operators with precious little advertising budget. The clear intent is to make editorial comment unavailable in an effort to extract paid advertising. The listener misses out on good content and the radio network restricts itself to larger advertisers.
Ironically, our public television and radio network, the ABC, have exactly the same approach: free plugs for authors and nobody else. Of course they won't take your money for commercial advertising. So the effect of our current media structure is to shut the commercial sector out of public discourse.
Society would be positively affected if the public media lightened up about commerce or the commercial media lightened up about editorial. I'm suggesting there is room for another media network; one that preferences good stories and good content, irrespective of commercial content. Create a media channel accessible to professional consultants and businesses. One that does not rule you out of public discourse because you charge money for a product or service.
Here is a problem; here is a solution. It costs money. Get over it.