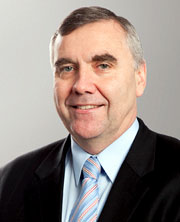 "We chased the consumer with aggressive discounting in November and December . . . so when we got to the stocktake sale consumers didn't need to purchase," – Bernie Brookes, Myer Chief Executive, Feb 7, 2011.
Well there you have it; the head of our largest retailer declaring that they only have one weapon in their marketing armory and they've fired it. May as well pack up and go home.
They used to tell us in marketing school that there was Product, Price, Packaging and Distribution. Turns out there's just Price.
Retail is in some trouble. Much angst about the feelthy internet gobbling up THEIR sales.
Do this for me: open a newspaper and look at the retail ads.
Page after page. Photos of products with the price next to them. I forgive your thinking that nothing has changed in forty years of retail advertising.
Here's a clue, Bernie. If it's not working, try something different. Try putting QR codes in your ads linking to videos that explain why I need your product.
Supermarkets: I know what your product range is. I know where your chain sits on the price spectrum. I know about loss leaders. I'm not running in to your store because you have tomatoes on special. If price is my key criteria, I've already made the decision. You offer me no extra information in your advertising and no reason to visit. Supermarkets and liquor stores treat their customers like idiots.
Car sellers: instead of a page full of empty cars photographed in a car yard, link to a video of a salesman pitching the virtues of each car. Isn't that their job?
Myer and David Jones hope that their photo of competitively priced manchester triggers my realisation that I need a new set. But I don't buy manchester on price.
If I have a pressing need to buy something and I see it advertised at a discounted price, I'm probably interested. But at any one time there are DOZENS of things I've imagined I need. I ruined my pressure cooker. I want new lighting (I always want new lighting). Need to get bloody birthday presents. But the thought of visiting your store is just completely uninspiring.
Will I be surprised by what you're selling? [Oh wow, David Jones is selling dancing lessons]. Will I be entertained by an in-store demonstration? [So here's how you cook buffalo in a pressure cooker]. Will someone lead me by the hand to the various departments and save me 50% of shopping time? No. No. No.
Price is a trigger but only in some circumstances – there are other factors at play. Presence, inspiration and salesmanship are at the core of discretionary purchases.
In another universe, here's what Bernie said about the failure of the January stocktaking sales:
"If we continue to rely on discounting, we're toast. We need to get people in to our stores. We need to rejuvenate the shopping experience. We need to train our staff better. Luckily, we're blessed with visionary staff and diligent management. Bring it on".
In the 1950s, new products were new. Those days are gone. Learn a new trick. Give me a reason. Show some imagination. Tell me a story. Engage me, you tired old conservative has-beens.