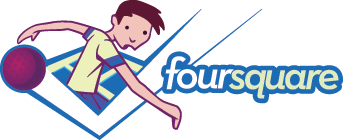 Foursquare and seven years ago, our fathers brought forth on this Internet a new application. The latest venture capital love object is Foursquare, which has signed up 275,000 New Yorkers to a mobile phone GPS app that lets their friends know where they are.
Business Insider details how the app works; you check in when you go to a venue (a place which serves alcohol) and you get points for visiting. Then, if a friend happens to be in the same street, you can meet and have drinks, just as if you'd actually organised it.
The Business Insider article is the normal breathless account of a new startup about to take over the world. The comments on the article tell another story. "I played with it for a few months, and obsessively checked in everywhere… I stopped participating over a month ago." And "4 square fills up my Twitter with meaningless crap. Well I should say: even more meaningless crap."
As I understand it, you can limit your Foursquare friends to a subset of your Twitter friends, but I suspect the status updates (which are juvenile in style) go to all contacts. This is spam for most people and will wear thin. If Foursquare can't deliver this to only your interested subset, we'll probably see Facebook and Twitter introduce friend categories. "Bar buddy/friend of mother". Would seem to be a sensible development anyway.
For Gen Y in particular, mobile applications will affect how people meet and what they do when they get there. Although there seems to be nothing particularly compelling about Foursquare it has its own API so developers will build on the functionality. The value will be in creating apps that address specific niches. Groups of teen boys meeting new groups of teen girls. Business people finding the closest available php programmer. I can imagine an app that o.O that's a good one. Might keep that one to myself :p