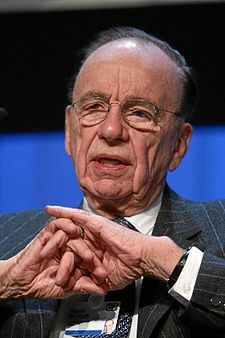 Perhaps you've been listening to Rupert Murdoch's Boyer Lectures? He has an awful voice but he says a lot of sensible things – as you can imagine, he has the benefit of an unusually wide perspective. His dislike of elites and authority mark him as an Australian; his enthusiasm for change explains why he lives where he does.
Rupert was optimistic about newspapers. He understands that newspapers are a brand, that they are about trust and that their oxygen is the reader. Using that brand, he argues, News Corp will deliver relevant information in whatever technology format is appropriate. Spot on.
Much hand-wringing by journalists nonetheless about the death of journalism now that the Rivers of Gold (classified advertising), are flowing to the Internet. The old newspaper business model said, we will provide the reader with journalism and companies will pay for advertising so they can access those readers. But readers now search Internet databases; a far better system for the classifieds buyer. Simultaneously, the Internet is competing with newspapers for eyeballs. What is to be done?
What newspapers have is credibility, so they should look to use this competitive advantage in subject areas which are perceived as valuable. Where credibility is currently lacking.
This is most feasible in areas where newspapers have not traditionally trodden. Take Search Engine Optimisation for example; a subject close to my economic heart. The web is full of SEO experts, all giving away free content and trying to up-sell you into subscriptions. The problem is, you don't buy a subscription unless you have a high level of trust. You with me? Would I pay $100 a year for the opinion of one expert? Hmmm. Would I pay $500 for a subscription to the Wall Street Journal's Best in SEO? If it has 20 contributors and a WSJ banner, I probably would.
Would people pay $100 for a subscription to the Sydney Morning Herald's Guide to Selling on the Internet? Many would. Would business people pay $500 for the New York Times' Internet Networking subscription? Yes. The Economist's Web Marketing? The Guardian's Internet Relationships? The Mirror's Best Bargains?
Newspapers should be looking at the e-book market and turning some of those products into premium, branded subscriptions. They should develop new products which deliver expert content in technical and specialist areas. You can't justify charging for 'news' or 'opinion' or 'business' because they are established as free info but anything new is fair game. Industry specific subscriptions will also work if the content is extensive.
Your mainstream publication then carries normal articles plus pointers to Subscription Only articles, both on the web and in printed form. Newspaper management are not used to new products. They're used to the monolithic publication. But the splintering of news into specialist subscription publications is a logical response to losing your advertisers. In effect, the newspaper could become the Editor of the Internet.