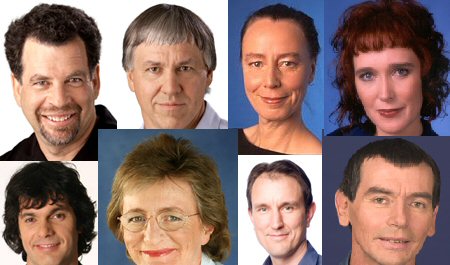 The ABC has always been Amateur Hour on grooming. Its station promotions are the other weakness; sickly imitations of the commercial networks' urgent demands for attention. I'm not suggesting they get better at copying commercial style promotions. Quite the reverse. The problem is an unwillingness to experiment with alternative advertising formats – testimonials, mash-ups, pointers, cross-promotion and snatches. Spare us the insult of needless repetition.
Although their programs treat the audience with great respect, (it's so nice not to be talked down to) the advertisements they use to promote those programs remain formulaic in scheduling and format. Perhaps there remains some distaste for the notion of advertising, even if it is advertising one's own excellent content.
ABC Radio National has had tremendous success with Podcasting. But they continue to promote only the forthcoming week's programs. They could now promote all the content that exists on their web site as well (usually four weeks' worth of history). Some more creativity in promotion would be welcome. The bad hair we can live with.