This is the difference between a marketing consultancy, like Free Beer, and a web design company. I was talking to the iconic Northbridge butcher, Terranova, who wanted a web site makeover. Now if Terranova spoke to a web design company, odds are they would have ended up with a new web site.
But a marketing consultant is interested in an outcome, not a product. So we fleshed out what the business objectives were. The keen amateur foodie is the core constituency and Philip, the owner, felt that if we got it right, Facebook marketing would make the most difference to his business.
So we cooked up an interactive Facebook experience at the front counter, by building him a web app that talks to Facebook. Now his web site is actually useful to his customers and gives him an engine for social media shares.
Customers walk up to the counter and choose from the following: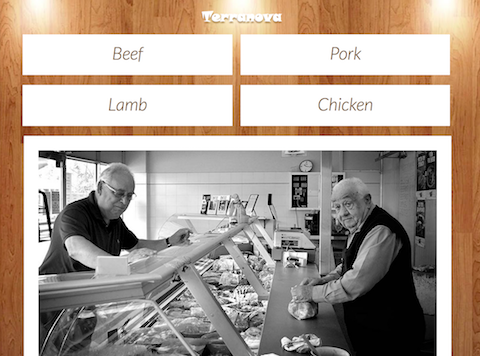 The database comes back with a host of recipes and photos the customer can scroll through. They choose one and save it to their Facebook page or, if they prefer, the butcher can save it to the Terranova Facebook page. You can refine the search by cut: I want ribs – don't show me any other recipes.
It's a way of value-adding to a purchase as well as increasing customer engagement. It puts the recipe on their phone and in their kitchen.
They're a fine butcher shop by the way. I highly recommend the Sicilian sausages. They're great wrapped in kale. Look at me; pretending to be some kind of food critic.