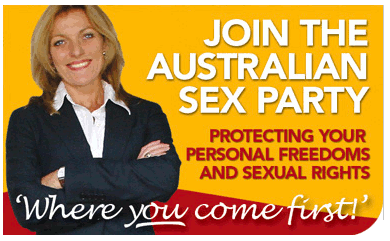 Went to Sexpo and met Fiona Patten, the Convenor of the Australian Sex Party. I think this is going to be successful and influential. Set up by the Eros Foundation, the sex industry lobby group, it's attracting the support of commercial operators within the sex industry. That means they'll have a physical distribution channel through which they can promote membership. I gave Fiona my unsolicited opinion (people love that) – I think their strategic focus should be on gaining members. This is because the mainstream parties actually have very low membership numbers. If the Sex Party get to the point where membership numbers match either of the major parties, they will legitimise themselves in people's minds. Nobody wants to vote for a party that nobody votes for.
Their web site is already attracting 35,000 uniques a week after just six months and they are more pro-social media than the rest. Okay that's not difficult. Join the Facebook group here.
They also need to establish in people's minds that what they're chasing is some representation and balance in the Parliament. Not a take-over. They need to present themselves as reasonable and normal people and they probably should consider knocking off some of the hard edges on their policies, which are pretty strongly anti-religious. That won't help.
I wish to point out that I've written about this without a double entendre which seems to be beyond most media folk.
Two products at Sexpo I thought were interesting. Sportsheets are a clever product. Restrain your partner using velcro pads that adhere to the sheets. So much easier than those infernal ropes.

Party High Pills is a new business selling herbal euphorics manufactured in Hamilton Hill (in a state of the art garage?) from ingredients sourced from New Zealand and Israel. Good quality presentation; they've done an excellent job. Although the danger levels are almost certainly lower compared with Ecstacy and amphetamines I think they'd be wise to amp up the reassurance on their web site about toxicity testing. I'm sure there's a substantial market there so at some point, someone needs to fund a clinical trial. Meanwhile, will instigate individual sampling for purely research purposes.