My preferred café is closed over the holiday season so I've been visiting the slightly less fashionable one down the street. It's run by a Turkish lady and her business partner. They've bought this place at considerable financial risk. Business is less than hoped for, in spite of the fact that she cooks very well and they make good coffee. The place is an old house; large. Ugly. No other word for it.
Today, after asking some questions about her clientele, I gave her some unsolicited marketing advice on how to improve business.
1. Remove ugly signage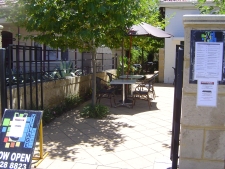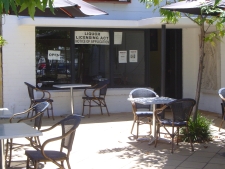 2. Work your strengths
The strongest area is the side path along the left hand side of the building; dappled light, intimate but barely noticeable from the street. There are about 8 tables for two behind the two front ones.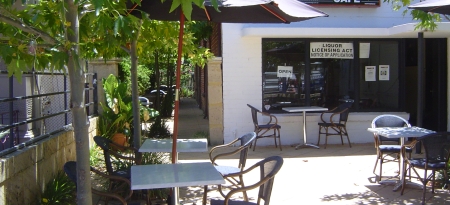 I suggested she needs to draw attention to this area by creating a bamboo wall (say) from the front of the house to the street, so that the path is the same width all the way. Re-orient the tables and chairs so they face the same way as the ones down the back; that will exaggerate the visual connection.
3. Garden full of furniture; house full of plants
We should visually join the inside of the premises (which are quite friendly) to the outdoor area. Because of the tinted window it's not clear that there is seating in there. So remove the tinting.
4. Atmosphere is not necessarily expensive
The predominant view walking past the premises is this white wall. Note ugly pipes: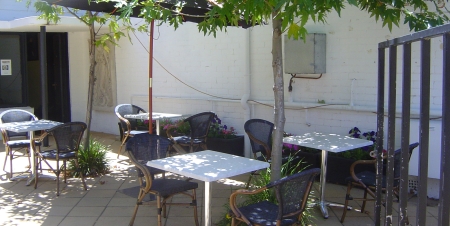 But look closer; there are colourful flowers on the ground: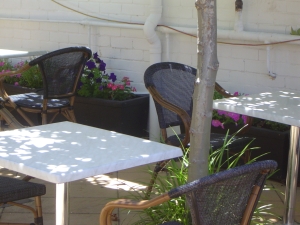 These need to be put on blocks so that they are eye level or at least cover the pipes. This and an understated wall feature higher up will do the trick. The owner likes gardening. I told her to go crazy. Tiny vase on each table. Visible flowers in that front area will add massive appeal at practically no cost.
I'll update via the comments if she implements and advise of the results.