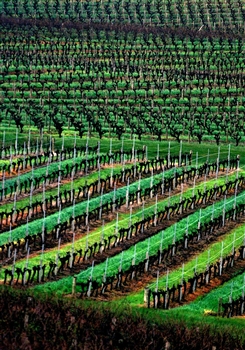 The price you get for winegrapes is one thing, but the other thing that really matters is what yield you get off that hectare of land. When you multiply the two together you can compare the worth of different varieties and different parts of the country.
So I recently came across a database of West Australian vineyards who are yet to sell their grapes. It includes full data on 33 blocks, including the price the buyer expected to have to pay the vineyard as well as the yield expected.
Sauvignon Blanc and Semillon are the two most lucrative crops, with Chenin Blanc close behind, because of its high yields. Cabernet Sauvignon and Merlot sit at the bottom. "Can't go wrong planting cabernet or chardonnay they told us; premium varieties…"
Cabernet and merlot also had the widest range of prices; with some vineyards prepared to sell even low yielding grapes for $700 a tonne. This includes Margaret River fruit, one of the best GI's in Australia and internationally rated. That price is not sustainable; those people will be selling up if it doesn't change real quick.
Looking at the different regions shows a substantial spread; Margaret River blocks ranged between $9,000 a hectare and $13,000; no better than less prestigous areas like Manjimup and Pemberton. Land cost is of course much higher at Margaret River.
I guess the only other point to make is that operating costs for a vineyard run around $7,000 a hectare. Then there are overheads and capital items… If you've borrowed to plant a vineyard, the interest could easily be $6,000 per hectare. You do the maths.
By the way, I know where to get 160 tonnes of quality shiraz grapes in case you're looking…