Having now conducted a number of tours of real life businesses in Second Life I suggest to you that the medium is not working as advertised. I'm talking in particular about trying to sell real life goods.
Here are the traffic numbers in avatar minutes/week:
Adidas 1,122
American Apparel 2,588
Dell Factory 577
Warner Bros' listening loft for Regina Spektor 62
Sony 128
Average: 650 per week ~ 900
The poor traffic numbers are in spite of the fact that these companies have used their PR infrastructure to generate tremendous free kicks from the media, who seem obsessed with the real/virtual transition. The media however are largely missing the point which is the unpredictable phenomenon of a virtual world for adults. This is a little harder to report.
Contrast the real life traffic figures from leading in-world companies:
Ricx Jewellery 22,260
Xcite (virtual sex equipment) 59,011
Ice Dragon (casino) 75,695
ETD (hair) 17,294
Vindi Vindaloo (clothing) 5,579
Average: per week ~ 36,000 or 40 times the volume of the real-life businesses.
The failure of real life companies to spark interest in their venues is partly flawed strategies and partly the nature of the medium. Let me make the point visually. Here is a pair of shoes that Adidas are marketing in Second Life.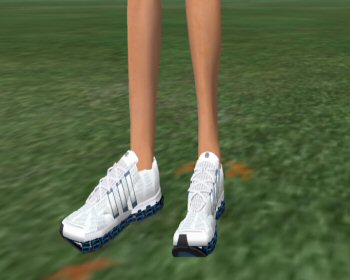 And here's the in-world competition: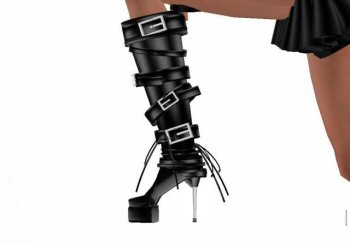 Ladies! Cast your vote!
The people in Second Life are having an immersive experience. One of those self-expression things. They are not in Second Life hankering for the real world. Developers need to (a) understand that and (b) explain it to their clients. The opportunity for businesses is to tap into the creativity of Second Life and take that into the real world, NOT THE OTHER WAY AROUND.
I just included Dell on the tour. They allow you to configure a computer in Second Life. But only one model is available and you still need to go to the web to complete the sale. Why not just use the web? Just because you can do something in Second Life does not mean you should do it. The web is a better tool for database applications and I am not convinced that Second Life is destined to be the web's front end.
Businesses should consider the possibility that Second Life's principal value might not be to help them sell more widgets but to help them communicate powerfully, especially amongst remotely located employees. Instead of second rate virtual shopfronts they should be building virtual offices and virtual communities.
Glutton for punishment? See my previous article on GM and IBM.