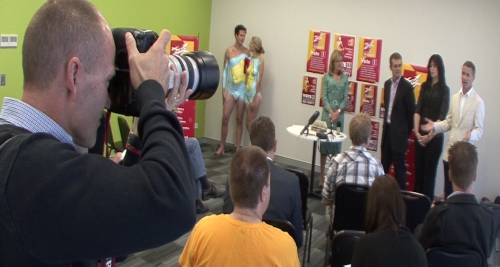 Yesterday we launched the WA campaign for the Australian Sex Party. A good result; we got coverage in the daily paper, the talk radio station and two of three commercial TV stations.
I was struck by the high level of engagement by the media people who attended. Much nodding of heads when we spoke about 25 years of ludicrous censorship laws, the power of very conservative people in parliament and the need for more secular people to stand for election.
I asked Fiona Patten, the party leader, if this was typical of the response as she travelled the country and she said it was very much the case. It seems if the election were confined to members of the media, the Sex Party would form Government.
Why are the media (privately) so positive about the Sex Party? Clearly they are among the most politically engaged people in society. It would be interesting to test the proposition and research what is driving this. Here are my own speculations on the subject.
* People who have close access to what really goes on are not impressed by the nature of two party politics in Australia. This would follow naturally from cynicism in the media.
* The media, like the Sex Party, are frustrated that Australia lags in progressive social policy. This would result from idealism; another problem known to affect the media.
* The media dislike the narrow agenda that results from following the major parties. This would result from boredom :p
I think it would be a great tactic for one of the networks (and for our democracy) to publicly declare a Major Party Blackout Week during the election campaign and see what issues emerge. I suspect they would develop a far more interesting agenda and alter the course of the election.
Chances are slim. Today was the drawing of the ballot in all electorates; the only opportunity before the election for the media to gather all the candidates together in each constituency. In my electorate, Swan, no-one from the media attended. Neither did any media attend the draw of the Senate. They were all out following Julia Gillard. Boy, does that work – flying around the country visiting towns/cities for fractions of a day! The media might not like it, but they lap it up.