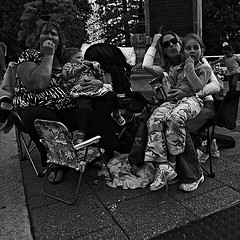 The City of Perth is contributing $200,000 to the Christmas Pageant. But they want their pound of flesh. Naming rights. Trouble is, there are already two other sponsors. No problem, we'll just call it "The RAC Channel 7 Christmas Pageant with the City of Perth". I'm not making it up. That's what they say the event will be known as.
Now, you know, and I know, the public is not going to call it that. It has been "The Christmas Pageant" since Jesus was a boy. Well, the 1970's anyway.
It's a great example of the quid pro quo mentality of modern sponsorship. Sure we'll kick in some money; WHAT DO WE GET IN RETURN? Very Christmas-spirited of them.
In this case though, by insisting on a naming rights appendix, they just make their event look ridiculous.
Perhaps they should drop the words 'Christmas Pageant' altogether and just list the sponsors?