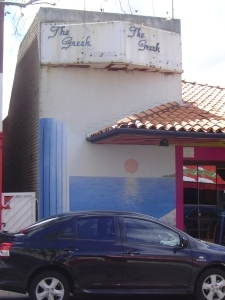 It's an entertainment precinct which is down on its luck. The most visible sign of that is, um, the signage. Barricaded shopfronts, peeling paint, old decaying signs. Not to say there aren't some well-presented businesses; the Dome, Oliver's Restaurant, The Elephant & Wheelbarrow, the Brass Monkey all have attractive street presentation. Yet well-established businesses like Kakulas Bros, the Greek Taverna, Nandos, Cinema Paradiso, The Re Store and Tony Barlow, have faded signs, missing letters and facades that signal neglect and indifference. To me, those businesses degrade the precinct; they have the capacity to lead and they don't.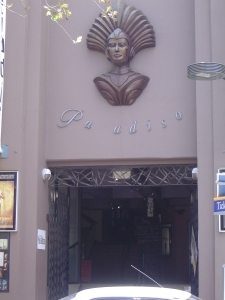 Without a strong commercial interest group or re-development authority there is only local government to rely on and the City of Perth probably have other planning priorities. Left to its own devices it will continue its slow decline as the City of Perth foreshore develops and the western suburbs snare all the stylish restauranteurs.
If you had a brief to market the area you would need the authority to compel businesses to conform to presentation standards. This would include making signage fit its surrounds. Ageing brick buildings can accommodate painted signage, but big tin signs just look crap.
From presentation standards you would progress to coherence and then ambience, events and promotion. Let me just deal with coherence. I'd create 4 destinations. The Backpacker's Quarter, The Mediterranean Quarter, The Asian Quarter and the Arts Quarter (which would include fashion).
Now you have four identities you can build on, each in a defined area, each of which can be separately marketed. You'd theme each quarter; street furniture, signage, art and walk trails.
Yes, it's possible. Yes, the government would need to spend some money. But without an intention to create a focus, the slow decline will continue.