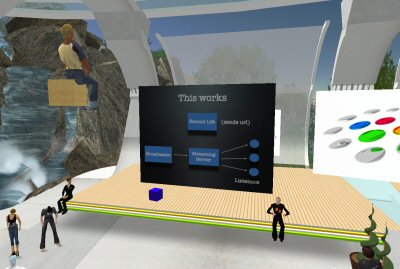 Alter-ego Biscuit Carroll just completed a Powerpoint Presentation in Second Life. This was done as part of the barcamp organised by Spin Martin, aka Eric Rice.
You're probably wondering why you would give a presentation INSIDE a virtual world. Because this is a new way for corporates to hold meetings with personnel scattered across the world. A valid competitor to video conferencing, which is expensive and telephone hook-ups, which are difficult to manage with more than three people. The advantage of Second Life is its immersive nature and the fact that it's a pretty enjoyable interface compared to alternatives.
Was discussing at the Blog Meetup last night how virtual worlds and on-line games subvert normal hierachical power relationships. Suddenly it's important how quickly you type. How knowledgeable you are about the medium you are using. This may be an advantage in a corporate environment, may be a disadvantage. We'll know soon enough, as Free Beer is working with other consultants to bring this facility to the attention of interested businesses.
The Powerpoint side of things worked fine, though it's a bit fiddly to set up. It took a while for the slides to appear; initially I thought the next slide wasn't loading so I impatiently clicked again (if it doesn't work, hit it) which of course loaded another slide and the presentation went out of sequence 🙂
Some presentations were done with audio streaming but my audio didn't work. Highlights the complexity the user faces in this area. Quite frustrating to be standing there watching a mute avatar, knowing that all (or most) of those around you are listening in.
In order to do the presentation, it's necessary to save the Powerpoint Pres as jpegs, then attach a script to the screen you create. Instructions here. Make sure you load the jpegs into the Content tab. I tried to load them as textures. *Stupid Biscuit*.
The presentation aimed to start a conversation about widening the exposure that bloggers and podcasters receive in mainstream media. Audience apparently unmoved. No-one asked any questions. Mental note to self. Next time, ask your own.
Here is the content:
Hi
:
:
Some very smart people in this room
:
:
Intellectual freestylers
:
:
Should get together
:
:
Challenge political, economic, social orthodoxy
:
:
In mainstream media
:
:
Speak new futures
:
:
New ways of agreeing with each other
:
:
A structure for turning agreement into action
:
:
We have a platform
:
:
SL machinima, cable tv
:
:
Web + SL + intellectual freestylers
:
:
= might make a difference
:
:
A shift in human consciousness
:
:
Starts with Africa
:
:
Any questions?