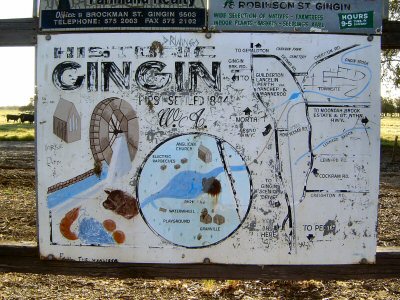 This is the sign which announces the charming little town of Gingin, where I currently live.
The sign is conspicuously positioned on the Brand Highway. Visitors to Gingin and residents of Gingin drive past it in great number. What signal does it send to a potential visitor? *Scratches head*
Signs provide information but they are also advertising. With a positive or negative effect. Here are the Free Beer newly invented guidelines for country signage.
1. Remove old signs. Clue: make someone responsible.
2. Make signs legible.
3. Don't let a committee design your sign.
4. Use a professional graphic designer. More people will probably see the sign than any other form of advertising you do.
5. Have a theme for your signs, ideally one that relates to your positioning. Timber towns use wood, mining towns use ornate wrought iron. The Pinnacles could use ant hills.
You should come and visit Gingin (Motto: On the Move). There are four events listed under Tourism on the Gingin website one of which is Seniors' Week. Look out Margaret River, here we come!