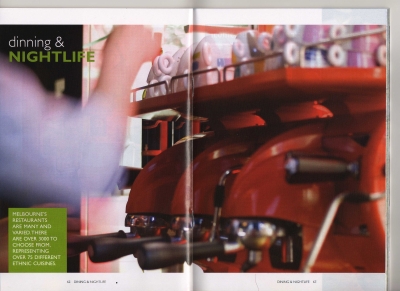 Proof reading? We put it through the spell checker. Not my fault Microsoft think 'dinning' is a word. Probably means making a big noise. Anyway, we sent it to the client and they signed off on it, so NOT problem belong us.
The Official Visitors' Guide to Melbourne in Spring is published by Destination Melbourne, the peak body for tourism in Melbourne and Regional Victoria. Soon to be renamed Destination Melbourne and Regional Victoria.
Looks like they're targeting the American market: they spell "splendour" the American way; "splendor".
The booklet is written in co-operative marketingesque. "There is so much to see and do in Melbourne that it's almost overwhelming. Just as well the city is cleverly planned, making getting around and about a breeze". It goes on to point out that it's easy to travel on Melbourne's extensive transport network. I guess you just PAY YOUR MONEY and GET ON BOARD!
Will the shopping cater for your every need? Will the restaurants be many and varied? Will the city have unique character? A full spectrum of activities? Great food and wine? Then I must be in, err, any city in the world.
Tourism promotional copy in Australia is predictable and awful. This publication is no worse than any other. The bureaucracy churns them out, businesses advertise with precious little return and the tourists wade through 128 pages of crap thinking, please, mercy, just tell me the interesting bits.