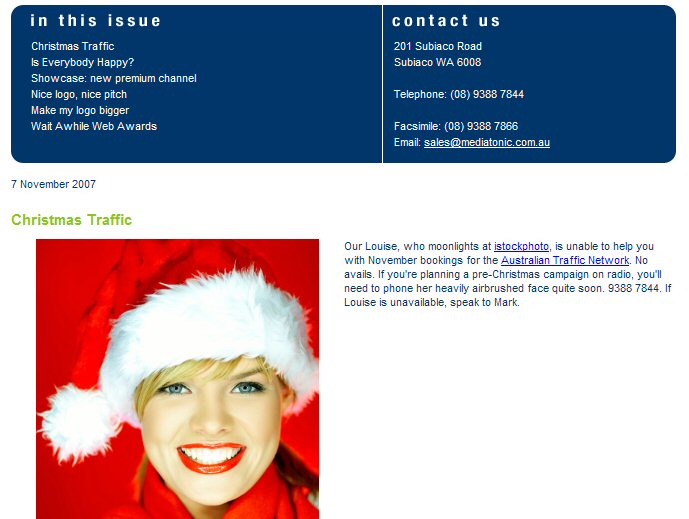 Blogs and e-newsletters are potentially effective business tools. I've used them with great success for my clients; perhaps you could use some advice or copywriting help? Works gangbusters in raising awareness or as an indirect sales tool for clients, as a communication tool for employees (top down AND bottom up) and in certain cases with suppliers.
It's important if you're blogging or sending email newsletters to balance the sales component with the entertainment content. Let me put that another way; unless they have to read it to pass an exam, you need to make it entertaining. If you already have someone in your organization who writes succinct, humorous articles and frequently surfs the net looking for content from the best bloggers, you probably don't need my services.
Which are these by the way (we're up to the sales component):
Advice on how to use social software in a corporate setting
Corporate blogging policy
Writing or helping you write a corporate blog
Turnkey blog website (strategy, design, content, implementation)
Blog marketing and blog promotion
E-newsletters (strategy, design content, implementation; the whole enchilada…)
Oh, I already blog in the areas of presentations, media, computer repairs and catering; so if you're in those industries I probably can't be of service.
I'm based in Perth, Western Australia and you can call me (Bret Treasure) on 0409908133 or from outside Australia on 614 09908133. Happy to provide reference sites.